We all have our favorites: our 1987 Suzuki has been a childhood favorite and with our family since childhood. From the cabin, to the farm, to plowing snow, to pulling trailers, to super-low diff lock — its arguably the most reliable and best ATV ever made. No chains. No belts. Well loved.
A goal is to make this a resource to keep these machines alive.
More to come with specific tips, facts, and information specific to the:
LT-4WD 1987-1998 Suzuki QuadRunner 250
LT-F250F 1999-2002 Suzuki QuadRunner 250 – newer body style
LT-F4WDX 1991-1998 Suzuki King Quad 300 [300cc]
LT-F300F 1999-2002 Suzuki King Quad 300 [300cc] – newer body style
"Tackle the tough terrain in four-wheel drive, or switch easily to two-wheel drive using the dash mounted lever and discover what it can really do. The front differential can even be locked when in super low range for extra traction on snow, mud and ice."
Suzuki lived up to the ads. I purchased NOS brochures and the official Suzuki Service Manual off eBay a few years ago and scanned them in an attempt to preserve history. The ad at the top was the first year: 1987 model pictures. Square axle nut boots (cone shaped all other years ), silver skid plate up front (black all other years), and the only year with the flip up/down front and rear racks.
The LT-4WD had a retail price of $3298.00.
Here is the sales brochure from 1995:

Amazingly you can still [supposedly] purchase the King Quad 300 new in Australia; some 29 years after the original King Quad 300 was introduced and a full 34 years after the QuadRunner 250.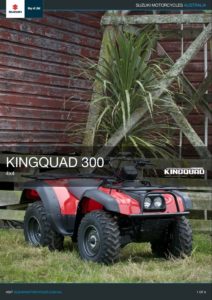 "The LT-4WD was able to give off-road enthusiast the ability to explore new limits on the trails or around the farm. The LT-4WD was the beginning of the sport-utility ATV at Suzuki."